Agree or Disagree? The 2013 All-Ball Fearless Forecasts (College Edition)
ROBI: Yo Boobie, this has to be one of the dopest years in all of Pinoy basketball since Willie Miller averaged 9.0 ppg and took home the MVP trophy back in 2002. Ja feel?
Boobie: Yezzir. You got Gary David catalyzing a watershed year for the PBA with tons of performances we'll see in Pinoy Xtreme Channel's PBA's Greatest Games (thank God for Destiny Cable!) years from now. You have Bobby Ray and The Beast dominating college ball like Leo staying on top of those VS models. Then there's Beda and Ateneo killing it.
ROBI: And don't forget about the D-League man. Even if no one watches a cheat code-enhanced NLEX team breeze thru the rest of the competition, the league definitely serves its purpose.
BOOBIE: Its purpose to provide another platform for MVP to stamp his dominance in basketball?

ROBI: Not that bro! It has been a perfect launching pad for college kids to ready their games for the pros. Just see Allein Malixi, Raphy Reyes, that Ponferada dude from NU who was only half as good as Edwin Asoro but is sitting on a PBA bench during the semis right now. The D-League also had a huge effect on how Abueva plays right now. He learned how to play with talented players and to be more disciplined.
BOOBIE: High school basketball was pretty much forgettable this year.
ROBI: Yeah, because we were spoiled with the Ravena-Amer-Romeo era and our standards for prep ball just went deeply to the north.
Enough of the look back. Let's look forward and forecast what will happen to college ball. And then let's throw in our MVP and champions predictions.
2013 COLLEGE PREDICTIONS
1. ROBI: Agree or Disagree?: Ray Parks will narrowly edge Kiefer Ravena and Terrence Romeo for his third straight UAAP MVP award.
BOOBIE: Yes, I agree. Not because Parks will average such gaudy numbers and pull the Bulldogs to a record-breaking second straight Final Four appearance. But because Parks will only average such gaudy numbers — say around 24-6-4 — and not bring his team to the playoffs.
See, that's the problem with a purely stats-based criteria for the MVP. Being the real UAAP MVP is not all about the numbers in the boxscore, it's also about the numbers in the W column and how you make your teammates better. I think next year, Ray Parks will realize how hard life is without Emmanuel Mbe. Terrence Romeo and R.R. Garcia (yes, those dudes will learn how to play with each other….OR NOT) will avenge last year's utterly unfortunate exit and beat NU to the 4th spot.
ROBI: I think Ray Parks winning his third straight MVP is almost a given so I agree. So to be different, I'm predicting that Kiefer Ravena will be UAAP Season 76's Real MVP — the player who will average dope numbers and make his team one of the best in the league.  He'll norm a 20-5-5 line and make his teammates significantly better.He'll make Buenafe feel at home at the 4 position. Kiefer will create tons of open 3-point shots for Juami Tiongson and hopefully Jerie Pingoy. Capacio and Pessumal will enjoy running with him at the break.
2. BOOBIE: So much for trying to hide the fact that you're a Kiefer fanboy. I got next. Agree or Disagree?: It will be UST-La Salle in UAAP Season 76 Finals.
ROBI: I agree whole-heartedly. It certainly sucks balls to admit that my beloved Eagles won't make it to the Finals next year. And as I scan thru the invisible roster sheets of UST and DLSU in front of me, it's getting clearer and clearer that these two squads are a cut above ADMU, FEU, and NU.
DLSU will be a very complete team and their size upfront will be very tough to deal with, plus you've got long, athletic, fast wings who will continue to disrupt passing lanes. The zone defense will be their kryptonite — it will slightly negate their size advantage and make their lack of outside shooters look like one huge mountain of pimples on Carlos Boozer's forehead.
UST will miss His Clutchness Jeric Fortuna. But they will still have tons of firepower. I'm giddy about my kid Kevin Ferrer. He's making noise in the D-League and the improvements in every department he'll show next year will be so sure like Taylor Swift switching BF's in a couple hours. Jeric Teng is gaining confidence with every tweet. No kidding, this dude is one of the swaggiest I've seen in college ever and that's his main strength. Of course Aljon Mariano is already a PBA talent. Abdul's swollen arms will continue to disfigure anyone's face next year.
BOOBIE: Wow. That felt like a letter to "Maalala Mo Kaya". But yeah, I agree man. What's interesting to ponder on is which of ADMU, NU, and FEU won't make it to the Final Four. I'm putting my old one peso coin on NU falling off. It's gonna be karma for them Bulldogs. Just think of how much the stars aligned for them last year. Mbe's absence will be huge. I think people underestimated his value to the team. He was like a shoe-shone version of Abdul at the post. He was more polished on offense but his motor was like that of an Owner Type Jeep to Karim's Ford Focus engine. He just did not get the ball enough last year.
3. ROBI: Hmmmm. What to predict for the NCAA. Let's see. With it's core intact and other strong programs losing their best players to graduation and maybe to other salivating offers outside of college, San Beda will most probably ho-hum its way to another title. So Agree or Disagree?: The Red Lions won't lose a single game  next NCAA season.
BOOBIE: Easy boy. Easy boy. I think the biggest threat to the Bedans next year, more than their new Head Coach Boyet Fernandez going to a "pa-cute rotation" and utilizing Amer and Adeogun off the bench, is Letran. I think Kevin Alas will come back next year because he's not ready for the pros yet. His decision-making skills need to be refined. Plus Mark Cruz and Raymund Almazan will respectively have meaner defensive and offensive games. So IF Kevin Alas comes back — and I think a lot of NCAA guys are kneeling on both knees for him to do so — Letran will challenge San Beda. So I disagree.
ROBI: Yeah you're right. San Beda not losing a single game might be asking for too much.
But I'm predicting with "Itaga mo na sa bato." confidence that they will win it all again next year. The NCAA next year will be like boxing's heavyweight division for the past few years where Wladimir Klitschko (As San Beda because he's the better Klitschko. Dude is dating Hayden Panettiere that's why he's the meaner twin.) and Vitali Klitschko (Letran) are just spanking a bunch of doormats.
I think San Beda will show more improvement because they will lean more on Amer and Adeogun (The improvement you see with the Thunder right now? With Westbrook and Ibaka expanding their games? That will be Beda next year!) while Letran's hope to get better lies heavily on Alas to first come back and then show more vigor in attacking the paint and less petikness with jacking up so many from Caidic Land. That way he'll find more open teammates. Letran should be a more balanced team.
The Fearless. The Wild. The Crazy
ROBI: Ah yes. My favorite part. Keep a vigilant eye on these dudes this year.
Jericho Cruz and Scottie Thompson will be the breakout college kids of this year.
Ping Exciminiano, former Tamaraw role player who has been killing it in the D-League (his averages after 7 games with Cagyan Valley: 17ppg 4rpg 2apg ) will sit on a PBA bench before the year ends.
Ola Adeogun of the Red Lions will average around 16ppg 10rpg and 3bpg. This adobo-loving dude should be MVP next year.
BOOBIE: I thought you were going to predict that next season, we'll see another baller who just came off hitting the two biggest shots of his career, shitface drunk in a very dodgy place — a place filled with smoking testosterone — holding hands with an overwhelmingly flattered 40 year-old woman. Okay I just predicted that myself.
Bo Perasol will put Ryan Buenafe at the power forward spot and will ask him to bulk up. Good heavens no!
Ronald Pascual will attempt 26 shots beyond the arc in one game.
Bobby Ray Parks Jr. will hit Kevin Ferrer's nuts. Book it!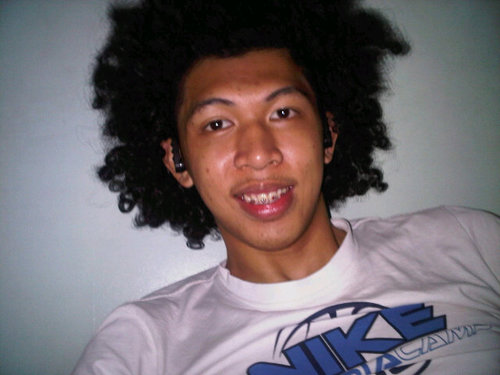 Photos c/o Kevin Ferrer's fantastic Twitter account, and Interaksyon.com/Interaktv