In Case You Missed It: Balkman, Belga and How Ginebra Lost But Did Not Say Die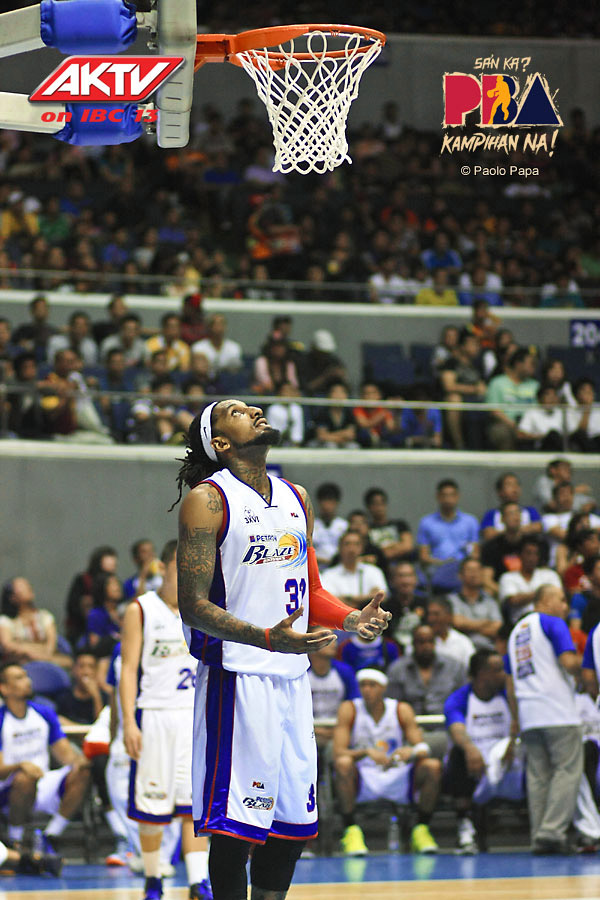 Barako tried to end their skid. They failed. Petron continued their very un-Petronovela run. Ginebra tried to post back-to-back wins. They failed. Rain or Shine continued their very Rain or Shine ways. All in all, it was a very eventful Superball Sunday.
Danny Seigle almost got into a fight in front of his own bench (none of whom felt the urgency to get up quick by the way), Sean Weinstein got chippy with almost everyone for Lord knows why, Ronald Tubid joined the 5000 point club on a sick 4-point play, Vernon Macklin laid down the #MackAttack on everyone, Bruno Sundov needed a brickgame on the bench, and so much more.
On top of all that, three must-know details from the doubleheader to start your week. Here they are, ICYMI:
1. Breakaway Balkman.
I'm gonna go out on a limb here and say that Renaldo Balkman has more breakaway points than any other player in the PBA today. It's an eccentric, unquantified, pretty unimportant stat that I am demanding be tabulated. And then let's frame it and send it Renaldo's way. Dude had 33 and 14 for Petron. Ho-hum. We've come to expect that from a guy who could arguably be on an NBA roster today if he was okay with garbage time and blank statlines.
But here's where Rey is unique: his ability to roam the passing lanes (mostly because June Mar protects the rim for Petron), has allowed him to pick off passes and dunk them with ease. Four steals against Barako. All breakaway dunks with no defender in sight (except that one play where he waited for Don Allado for no reason). He had two more dunks in the game to bring his total to six. Six dunks. SIX.
To put it into perspective, Barako Bull import Evan Brock only converted 5 field goals in the whole game. And one of those was actually a Balkman mis-tip that dropped in after Brock missed a free throw. Think about that for a second. Balkman had more dunks than the other import had field goal conversions. AND HE EVEN GAVE THE OTHER DUDE A FREEBIE. Yikes.
2. Beau Doin' Work.
No Jeff Chan. Pretty much no 7-foot-3-inch import in the second half. Against a resurgent Barangay Ginebra team just waiting for a chance to change their fortunes for good. Against a tall, strong, athletic, angry-at-the-rim-all-the-time import in Vernon Macklin. Against all odds.
Once again, Beau Belga shot-faked, ball-faked, side-stepped, pushed, shoved and downright worked to get the win.
Belga did his best against the monster that is V-Mack in the crucial moments of their matchup against the Kings. Bruno Sundov was once again saddled with foul trouble. Their Finals MVP Jeff Chan was still sidelined. Yes they had the lead, but Ginebra, after that win against Barako, and now with an import they have faith in, looked like how they once looked before: dangerous.
But Beau did what Beau does best: he got crafty. He one-upped Macklin on a couple of tricky fakes. He played hard, physical D on the import. He made clutch free throws when clutch free throws were needed. He once again embodied that ever-mysterious Rain or Shine spirit that somehow, someway, finds ways to win.

And for Beau, it's all in a day's work.
3. Try and try. But Never Say Die.
Sure, Ginebra lost. Sure, they're now placed firmly at the bottom of the standings. Sure, they can no longer blame the import. Sure, it doesn't look like there'll be solutions to their problems anytime soon. Sure, a lot of things are still wrong with the Barangay.
But, you've got to give it to them. They didn't quit.
Rain or Shine had all the momentum in the world. Paul Lee knocked down what was supposed to be the dagger. Ginebra said no. Belga hit big free throws. Ginebra said no. Lee to the line for two? Same Ginebra answer: no.
It wasn't that they were making these late-game desperation threes, it's that they were shooting them not for the sake of shooting alone, but because they still had every intention of winning that game, no matter what the odds. And though their stubbornness eventually had to give way to the 1-5 reality they now face, the mere existence of such audacity should be comforting (even if mildly) to every one of their millions of fans.
Why? It's because Ginebra isn't loved because they win championships all the time. They're not loved because they win games all the time. If that were the case, then they'd be bragging about the number of trophies Jawo has brought them, much like how the Celtics say "17" every chance they get.
Ginebra sits in a place all their own in the Filipino culture because like many hardworking citizens of this fair country, they don't give up. Ever. They're stubborn. They're relentless. Sometimes they win and get their way, sometimes they lose to a deeper team that has been together for a much longer time.
But regardless of result, or odds, or logic, Ginebra teams should Never Say Die.
And this one didn't.
Photos c/o Interaktv