This article by Carlo Pamintuan and Nikko Ramos appears in SLAM PH #200
Nikko Ramos and Carlo Pamintuan have written about Gilas Pilipinas, probably more, hopefully better, than anybody else. It was never a rivalry, never competitive. Similarly, as they finally collaborate, they discover a lot about six men that are no longer, or never were. This is the story of us all, and how six men and their trust for the process brought us from obscurity to the brink of the Olympics.
+++
The six men on the cover of this magazine stand there with PILIPINAS printed on their clothes, that same word is also seared a few centimeters beneath, on their chests, and under their skin, right on their beating, pounding, irrationally defiant hearts.
None of them are supposed to be here. Nobody forced them to do this. They can walk away anytime they want. But they won't.
Similarly, we, the Philippines, with a makeshift roster in the last FIBA Asia campaign, have no business competing for an Olympic slot either. Our third-world capital has no business being qualified (much less being the best option) to host another international tournament. We can walk away from this chance. But we won't.
It's nice to live in these moments, the times before a tournament. This is the scene in the film when the camera creeps up behind the lead characters to show the massive mountain they are about to scale, the sun rising behind the peak, a glimmer of hope literally on the horizon. In these moments we stand together. In these moments we are together.
There have been times, however, when the steepness of the ascent, the challenges of the climb, even the blinding glare of possibility, have disrupted our capacity to remain together. It is in those moments that we are tested. And it is those moments we must never forget.
On the cover are six men whom we've all said bad things about, before we said good things about them. Our doubts, our fears, our reluctance to risk, all combining to lead us to question, to criticize, to not be as audacious in hope and in trust then as we are now.
And yet these men stayed the course, they put their heads down, turned their Twitter notifications off, and they did what they had to do. For them, for the team, for us.
This is their story, as born by our initial hesitations about them, raised by their collective defiance and stubborn desire for greatness, and father of a brand new national identity. One that has taught a generation to believe, and fight, and turn to each other and to heart when all else fails.
Before we all trusted the process with them, convincing us was the process they first had to overcome.
Jayson Castro
"Mabilis lang. Hindi leader."
We were spoiled by Jimmy Alapag, the perfect Gilas captain. Alapag said all the right things at the right moments, the same way he hit the big shots at the right time. When he was about to hand over the reins to Jayson Castro, we hesitated. It made no sense. Castro has been the best point guard in Asia for the past four years but still somehow we were always more comfortable having Alapag around, just in case.
"Jayson was not a born leader," admitted Gilas head coach Tab Baldwin. "But he's growing into that role." Like many things in his career, Castro grows into things. In college, all he could do was drive and finish. In the pros, he extended his range and turned himself into a deadly shooter from outside. Internationally, he is now a matchup nightmare. He's too strong against smaller guards, too fast against bigger ones. We all witnessed how he mangled Iran's defense to officially end their reign over us. 
Still, there is hesitation for us to call him the leader of Gilas. 
For Castro, this is not an issue. Call Dondon Hontiveros the captain of Gilas 3.0. Call him a co-leader with Gabe Norwood in Gilas 4.0. Call him whatever you want to call him. At the end of the day, we're lucky to witness him take the court wearing our country's colors. Andray Blatche and June Mar Fajardo are pillars but other teams have dominant big men too. Castro is something unique to the Filipino brand of basketball and he's our best shot at winning.
It is unwise to bet against Castro. All the things we thought he could not do are part of his arsenal now. Like the Philippines' return to the Oympics, Castro's improvement has been on a steady pace. It might take some more time. But it'll get there. Why? Because with Jayson Castro, it always does.
June Mar Fajardo
"Matangkad lang. Mabagal. Malambot."
We're not used to seeing big men meet and in this case surpass expectations. When we saw him for the first time, we set a lofty bar. With his size, he needs to be the best big man ever or he's a bust. The funny thing now is he's actually on pace to be just that and our minds are still struggling to comprehend it.
"You can't build the best Philippine team without June Mar Fajardo," said Baldwin before he formed Gilas 3.0. Things refused to fall into place. Things rarely fall into place in the stubborn world of Philippine basketball. 
Gilas came up short against Iran 2013 with a raw Fajardo and an injured Marcus Douthit. Having Andray Blatche and the MVP Fajardo should have been enough to win the 2015 FIBA Asia Championship and book an outright ticket to the Olympics. 
Now, the road to Rio is much tougher but back-up has arrived. But if you ask Fajardo, he'll be the first to tell you he's no savior. Quiet, unassuming, his 6'10" frame often occupies odd corners inside the Meralco Gym. He looks like he's in perpetual awe of the situation he's found himself in. 
It started as a scam. Fajardo was just going to use his height to trick a college into giving him a scholarship. He did not know how to play basketball but he hoped that his size alone could give him a shot. This is why Fajardo plays with so much joy. If Abueva is fueled by pain and anger, Fajardo is powered by the moment. Everything he has now is a bonus. This, however, does not mean that The Kraken stopped working hard. Under Baldwin with Gilas 3.0, Fajardo made the first steps on his road to domination. Reuniting with him in Gilas 4.0 should only yield the same result.
We waited for so long to see Fajardo take on the best big men in the international stage. And we'll get to see it right in front of our very eyes. 
Calvin Abueva
Basagulero. Kontrabida.
(Editor's note: "Yes. Calvin's on the cover. Yes we thought he'd make the team, too. No, we don't think much would have been different if he made the lineup. Except maybe we'd sell more magazines. Or less. We're proud of the 12 we cheered on. We're proud of Calvin for cheering them on with us. Next time though, maybe give us a heads up Coach Tab? We promise not to tell.")
Calvin Abueva was Philippine basketball's perfect heel. He knew it so he played the part. Pretty much like how Floyd Mayweather makes you pay to watch him for the chance to see him lose, Abueva attracted viewers because something was always going to happen when he was on the floor. Abueva plays the sport with no regard for the well-being of those around him, even less so for his own. 
Abueva was like an ice cold bath, a shock in the system. But once we got over the initial reaction, when we stripped away all the antics, The Beast was simply a player who would do anything to win. And we started liking him for it.
First it was just the supporters of San Sebastian. Then it was Gatas Republic. When he put on his Gilas jersey for the first time, we fell in love the way he balled: slowly, and then all at once. 
"Dito ako pinaka-masaya," Abueva said to describe his stint with Gilas. "Bansa mo yung pinaglalaban mo e. Mas masarap kasi ang dami naming kakampi. Kumbaga buong bayan, sinusuportahan kami."
From being an outcast, from being the player whose presence on the court needed to be booed, Abueva turned from someone we hated because we could not comprehend him, into someone we cheered for without needing to know why. The more we understood him, the more we realized that he is not the perfect heel, but the perfect underdog. Too small for his position, not the most athletically gifted either, Abueva's will is what makes him who he is. It makes him an outstanding representative of Philippine basketball. 
He's stubborn and annoying and bullish and fiery and all the things we expect from a competitor. Against New Zealand and France, Abueva will still play like a heel. He'll scratch and claw his way to offensive rebounds. He'll ram his body against defenders to get a foul. Ok maybe he's still a heel. But he's our heel. He's their problem now.
Bobby Ray Parks Jr.
"Hindi naman Pinoy yan."
For as long as his name has been familiar, Bobby Ray Parks Jr. has always been on the outside looking in. He wasn't ever really one of us. His dad, different story. Bobby Sr. could sit on any barangay kanto and be welcomed like a family member. Right now in heaven, I'm sure he's in Pinoy Town having a cold San Miguel with some adobo. Ray Ray? It's not like people didn't like him, it's just that they didn't know why or how to love him.
He was American. He spoke slang. He wasn't from here. Therefore, he's not one of us.
Wrong. Wrong. Wrong.
Obviously he's a Filipino citizen. Ray's Tagalog is as bargas as yours. And above all else, there's this, "I'm 23. People think I'm from the States. No. I spent four years in the US growing up, one year last year there playing in the D-League. Rest of my life? 18 out of 23? Here! Manila!"
Everyone in the Philippines is related, it seems like sometimes. And as much as we never really embraced Ray Parks, the few times we did, it was in the manner that know-it-all titos deal with their nephews. When he didn't win in NU, when he went undrafted in the NBA, when he was struggling in the D-League. That's when we were all over him, saying this, tweeting that, as if any of us had any idea how to play ball at his level.
And yet, he's back. He's home. He's paying for a personal trainer out of his own pocket, he's skipped on a vacation or some time to rest, he's out there with a pulled shoulder that has no business hoisting up basketballs or trying to box out Calvin Abueva. And he's doing it for, you guessed it, family.
"Sa Pilipinas kasi, ang na-miss ko, yung mga tao. Na kahit minsan parang they're criticizing you. Pero, nasasabi lang nila yun because they want to see you succeed. And I want to succeed for them, only not on my own, not 'cause I made it to the NBA or wherever. I want to do it for the national team, for everyone."
The prodigal son was never prodigal. But he's more than just Bobby's kid now. He's our kid, our brother, our cousin, our nephew. He always was.
Terrence Romeo.
Buwaya.
We were never ready for Terrence Romeo to become what he is now. We were all sure then of what he was: a reckless, trigger-happy jumpshooter with a cool crossover, funky hair and a blatant refusal to pass the ball. We were all also so certain of what he'd be: someone who was too small, too one-dimensional and too selfish to succeed in the PBA.
Except, as we've learned with these six men, what we think we know, what we assume we're so sure of, it's most likely almost always wrong.
Today, Terrence Romeo's trigger is still oh so happy, his crossover cooler than a "yeti eating frozen spaghetti" (or a kapre eating ice-cold pancit, if you wanna be local about things). He is still most definitely a jumpshot scorer primarily, the hair is still, by god, always interesting for sure (although admittedly, calmer, thank heavens), and the reluctance to pass? That's a gene you just can't get rid of.
We all wanted and waited for Terrence to be taught a lesson, for him to realize the error of his ways. We were however, much like many Romeo defenders, schooled by the man whose on-court swagger is only rivaled by his off-court politeness. "Kuya, sa Gilas kasi, sobrang thankful ko na tinanggap ako sa kung anong klaseng player ako. Si Coach Tab gusto niya na aggressive ako, gusto niya na wala akong takot. Nakakalakas ng loob lalo."
Terrence Romeo has always gone zig even as you had just started thinking of him going zag. Terrence Romeo has always been ahead by more than just a step or two. But above all things, Terrence Romeo always knew, that to win in basketball and in life, you bet on your best skill and you live and die with the result. Terrence Romeo then, now and always, is a stone cold, merciless, no-Fs-given scorer. He knows it. Tab Baldwin knows it. When he drops the shamgod on Tony Parker to pull up for a clutch three, we'll swear we knew it all along too.
Maybe we did, we probably didn't, but it doesn't matter. The world will know. And even then, Terrence still won't care. "Aanhin ko points kung talo, Kuya? Tumitira ako kasi yun ang gift ko eh, pumuntos. Para manalo. Yun lang ang goal, manalo, wala ng iba."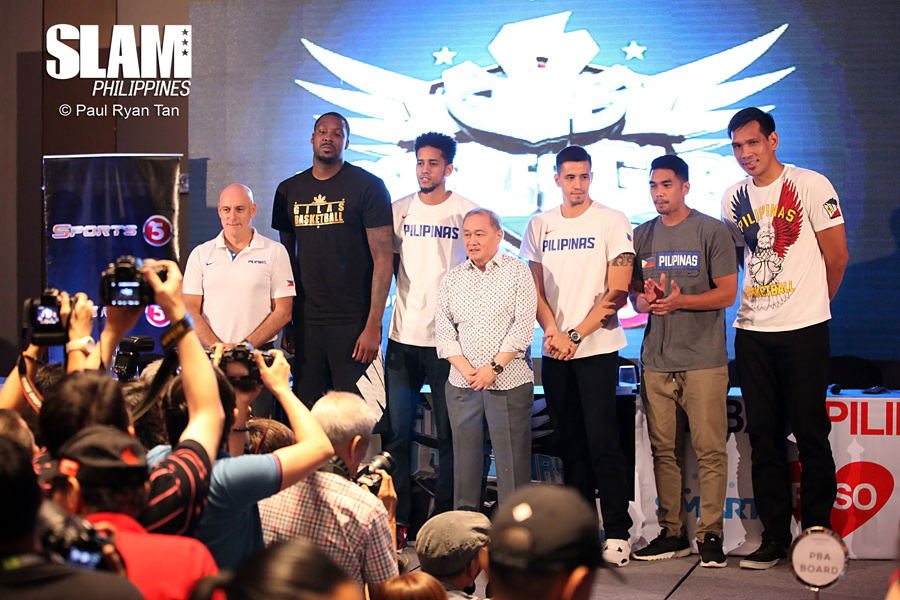 Manny V Pangilinan
"Sayang pera. Bad investment."
When MVP opened up his checkbook years ago to finally get the Philippine National Basketball Team Program in order, hardcore fans wept tears of joy. Like a Dothraki tribe watching a Khaleesi ride a dragon, we were filled with hope, and courage, and inspiration.
Across Westeros however, there was doubt, indifference, maybe even a tinge of disappointment. "That money can be better spent," they said. "We're a nation of small people. Why invest in a big man's sport?" they asked. MVP shrugged it off and kept paying the bill.
And oh, did the bill grow. The politics that came with it, the conflicts it created, the old wounds it re-injured, it was all starting to look, quite frankly, not worth it. MVP shrugged it off and kept paying the bill.
A few medals here, a debacle of a tournament there, a failed hosting bid with a Lou Diamond Phillips cameo that one time, a curse or two broken along the way, and we're here. Once again hosts of a major FIBA tournament, once again in contention for another once-impossible goal, once again with an enormous bill that one man and his businesses will have to pay for.
And yet to hear him speak of the endeavor is to hear a man who looks only ahead, and is, remarkably, hopeful still, maybe even more than ever. "I would say we have improved a lot. Judging by our ranking I think we were 65 in 2007. Now we are at 34 after the FIBA World Cup. A gradual increase to sub-30 would bring great pride and joy." 
A lifetime's worth of great business, a career filled with correct estimations and careful examination, and all this money, all this trouble, all this, for love of the game, for love of the country.
+++
The camera pans around these six men staring at a summit and reveals that behind them stand an army so large in number, so rabid in loyalty and so steadfast in faith. There we stand, us, the shield-holding, arrow-shooting, sword-wielding, flag-waving military force of basketball fandom.
We weren't always this way. Maybe we won't always be. But we are now. And we have been before, and so we will be again. Whenever needed, whenever called upon, whenever the bell is rung.
As you read this, maybe Terrence and Ray are picking out outfits for Brazil. Or Maybe Calvin is licking his wounds after another heartbreak. Maybe MVP is setting appointments in Rio. Maybe June Mar is looking to find out if his DoTA account is accessible in South America. Maybe, most likely, Jayson is in the middle of a Gilas huddle, with eleven other wrists and fists raised connected with his.
Maybe he's crying, for joy or for sorrow. Maybe he's screaming because the crowd is lit, or whispering because his teammates need his steady voice in defeat. What is certain though is that when he yells "Laban, Pilipinas" from midcourt, with all the leadership and determination in the world he was always destined to possess, they will all yell "Puso!" with him.
Them.
Everyone on the roster. Especially the five men Jayson stands next to on this cover:
Yung malaking tao galing Cebu, yung Amboy na hindi taga-rito, yung buwayang taga-Cavite, yung basagulerong capampangan, yung negosyanteng nagtatapon ng pera.
Them.
They will yell, and cry, and be ready for what comes after, be it a new mountain to climb or a second attempt at the same peak. And there we will be again, behind and beside them.
Because look how far we've come. Look at who these men have become. Look at who they always were and how they've changed the way we look at basketball, at our country's colors and our brothers, from every corner of the map, from Cebuano courts to Pampanga's eskinitas to Manila's boardrooms.
Look at who they've made us believe we can be as well.
Here's a simple promise, from the back of the formation, from two soldiers who would be near-worthless in times of battle if not for our simple skill of stringing a few words together:
For being resilient, for trusting in your hope, for being bigger than our petty doubts, for being the best of us, despite the worst from us. Gilas, for all this, we pledge our support, our faith, and our unrelenting tiwala.
Calvin Abueva picture c/o FIBA