Kobe Bryant on the new Kobe 8: "You have to trust it."
By: Aaron Atayde
By: Mico Halili (@micohalili)
Editor-at-Large
SLAM Philippines
Los Angeles, CA – Power 106 DJ Kurt Alexander a.k.a. "Big Boy" welcomes the pack. We're here to see the Nike Kobe 8 System for the first time. Kobe's history with Nike rests on one wall – from the Kobe I to the VII. Like a timeline. Kobe's history in the NBA is posted on another section of the exhibit – 17 years and counting. Like it's far from over. It's time. Big Boy declares, "We're from L.A. We expect over the top things."
Kobe Bryant enters the room. He's rocking the new Kobe 8. Strangely, it's not over the top.  I shouldn't be surprised. Low-cuts again. Why not? Kobe has fallen in the love with the low-cut profile since the introduction of the Kobe IV. The low-cut profile, Kobe once said, was partially inspired by the soccer boot. For the Kobe 8, however, Bryant revealed a new inspiration.

"I tend to look at running shoes a lot for inspiration," Bryant said. "Growing up, I was a fan of the Jordan sneakers. I mean, who wasn't. But now, at this stage of my career, when you're looking for ways to move lighter and quicker on the court, I look at running shoes."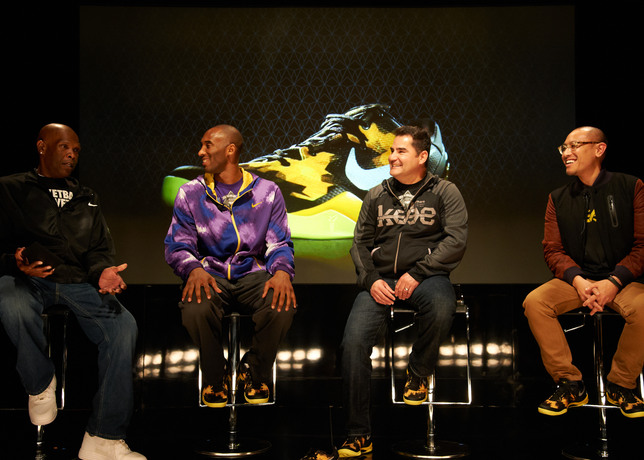 There's a phrase on one exhibit wall: Speed of Light. It's a phrase Kobe 8 designers take very seriously. The shoe needs to be fast. It also needs to be light. And the low-cut profile seems fit to meet such needs.
"When you use the Kobe 8, you have to trust it," Bryant said. "Because if you move in a low-cut shoe, your foot can actually move the way it was intended to move."
"We want it to be an extension of Kobe's foot," Nike Designer Jeff Spanks shared.
The Kobe 8 also remains an extension of Bryant's "Black Mamba" identity. The engineered mesh – a first for basketball shoes. The reptilian pattern – a fixture for the Kobe sneaker line. I mean these guys are really taking this snakes and scales concept to a whole new level each time. Eventually, Nike's Innovation Kitchen might start using actual snakeskin for future Kobe kicks!
"When we started designing the Kobe 8, we wanted to look at the design from how a snake sees it," Erick Goto, Nike Product Graphic Designer, admitted. "A snake sees data. They have sensors. It works like infrared."
The low-cut profile of the Kobe 8 shouldn't mislead anyone. The shoe doesn't scream, "Over-the-top!" But it features technology that vows to impress: incredibly light at 9.6 ounces (for a size US Size 9) – lightest Kobe kicks ever, features Nike engineered mesh upper, multi-surface traction, 3D anatomical heel counter, full-length Lunarlon midsole, no-sew synthetic overlays on the toe and lateral quarter panel, Phylon Carrier and glass composite midfoot shank.
"Used to be running shoes offered the most innovation," Andy Butler, Editor of DesignBoom, said. "But I'm pleasantly surprised with the Kobe 8. It's not over-designed. It's genuinely light. Normally, basketball shoes tend to be overdesigned. But the Kobe 8, from concept to product, it seems really well-considered."
"It's a simplistic, simplistic design," Bryant said. "But as always, we wanted a balance between science and art. And we wanted to have fun with it." MH
Related Posts