SLAM 1-on-1: NBA Legend Glen Rice for Filipino Heritage Week
The NBA's first-ever Filipino Heritage Week is being celebrated this week with an official tee designed by Titan. Three-time NBA All-Star and one-time NBA champion with the LA Lakers Glen Rice stopped by Titan Fort and we chatted with him about his latest visit to the Philippines
SLAM: First of all, welcome back to the Philippines Glen! Talk about the NBA Filipino Heritage Week shirt. Anything that stands out to you?
Glen Rice: Yeah, this was designed by Titan. Awesome design. First thing I noticed when I arrived at the airport was this vehicle. What do you call it, a jeepney? That was interesting, how that is a form of transportation. Overall, a beautiful shirt. That's why y'all better come thru before they sell out. Let's get everyone to come out.
SLAM: Have you gotten in a jeepney?
GR: Not yet I think I'd have to get in one by myself. We'll see. (Laughs).
SLAM: Did you notice a growing Filipino fan base while you were playing in the league?
GR: When you're playing you don't see as much because you are so focused on the season. When you're retired you have more of an opportunity to see the fan base grow and I notice that now. Filipinos probably [are] the number 1 fans outside of the USA.
SLAM: Today was such a big milestone with the league and the Miami franchise celebrating Filipino Heritage Week.
GR: Definitely. The whole league has done an outstanding job promoting FHW, the influence outside of the USA and  bringing that inside the game of basketball. With the Miami organization, they are much closer because of Coach Spo and his Filipino ties, [so it's] a great welcome from the team thru a fan's point of view.
SLAM: Talk about your shooting exhibition with 'The Triggerman' Allan Caidic and what it will take for a Filipino to finally make it to the league.
GR: Get the Triggerman to train Filipino players. Get him in there to teach them to keep shooting and keep their love of the game over the years. Accomplish that and one day we will have a superstar from here.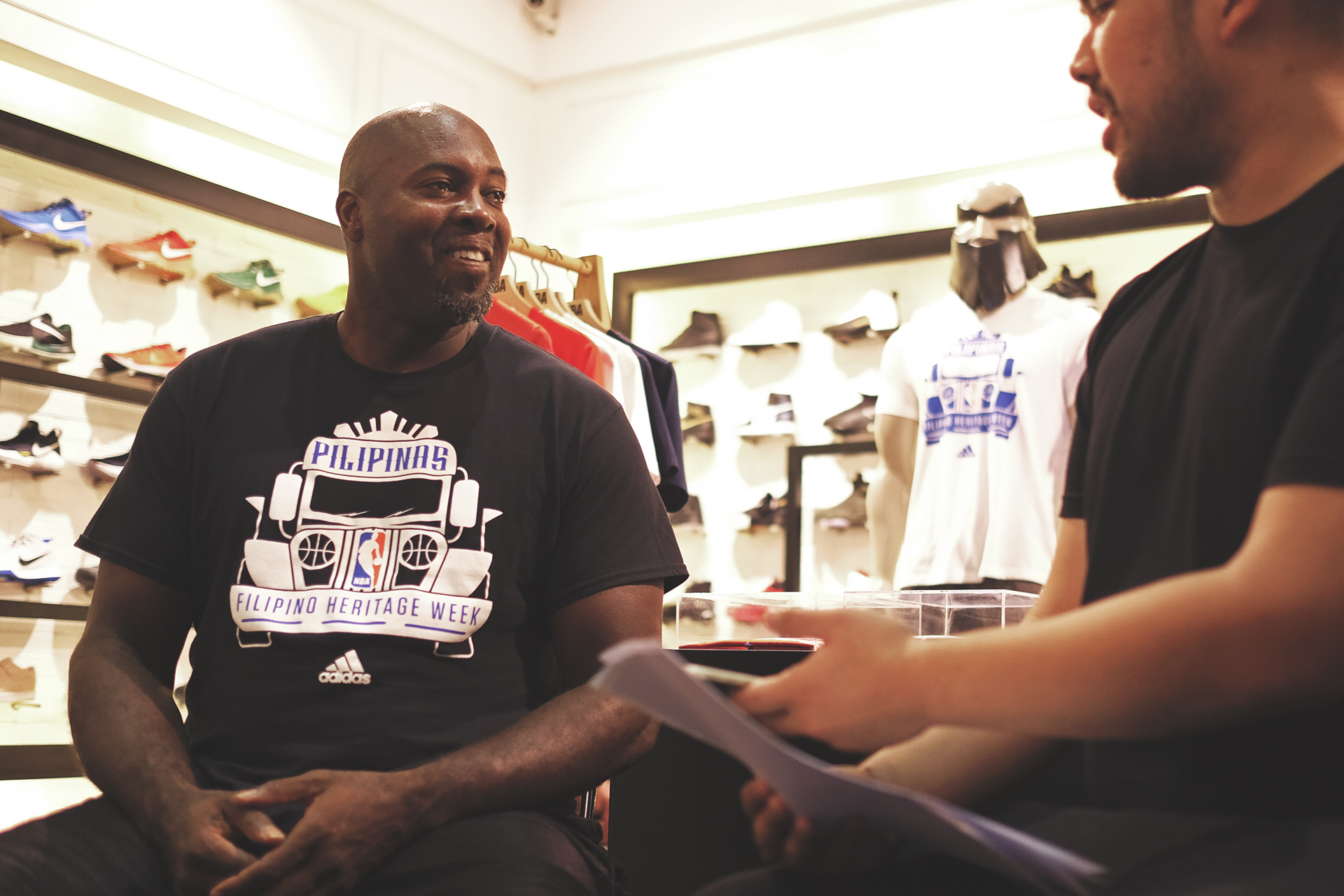 SLAM: When you were with Charlotte and Miami you were the go-to-guy. How was it different when you won a championship with the Lakers and you had Shaq and Kobe who were both the alpha dogs.
GR: It was real easy to accept my role. My career was winding down so I didn't have the type of ego to step on toes. I understood the mission at hand and I was lucky to nab a championship before I retired. It was great being with Shaq, a Hall of Famer, and Kobe, a future Hall of Famer, as well as a great coach in Phil Jackson.
SLAM: With centers and power forwards jacking up threes nowadays, how was it as a pure shooter, being a pioneer of the stretch 4?
GR: The game has definitely changed. As you said big men now are shooting outside. It's a faster game. If I played today you could consider me a stretch 4 now. I like seeing the game now, especially when they shoot.
SLAM: What do you talk about with your son, about the ins and outs of the league?
GR: Not only my son but everyone in the league, I try to tell all young guys involved, throughout your career you will fall down. It's how to get up and continue to keep fighting. Keep pursuing and don't give up on your dreams. Don't let anything stop you.
SLAM: Lastly, who are your top 5 shooters of all time?
GR: Me, me, me, me and me. (Laughs) I'd go with Larry Bird, Steph Curry, myself, Durant. I love the way he shoots the ball some people will say you can't put him up there but I like how he shoots. Last one's Klay Thompson.
SLAM: You got 3 Warriors in there.
GR: Not only 3, we're all Warriors really.
The NBA Filipino Heritage Week shirts are available at the NBA Store and Titan, as well as Titan22.com